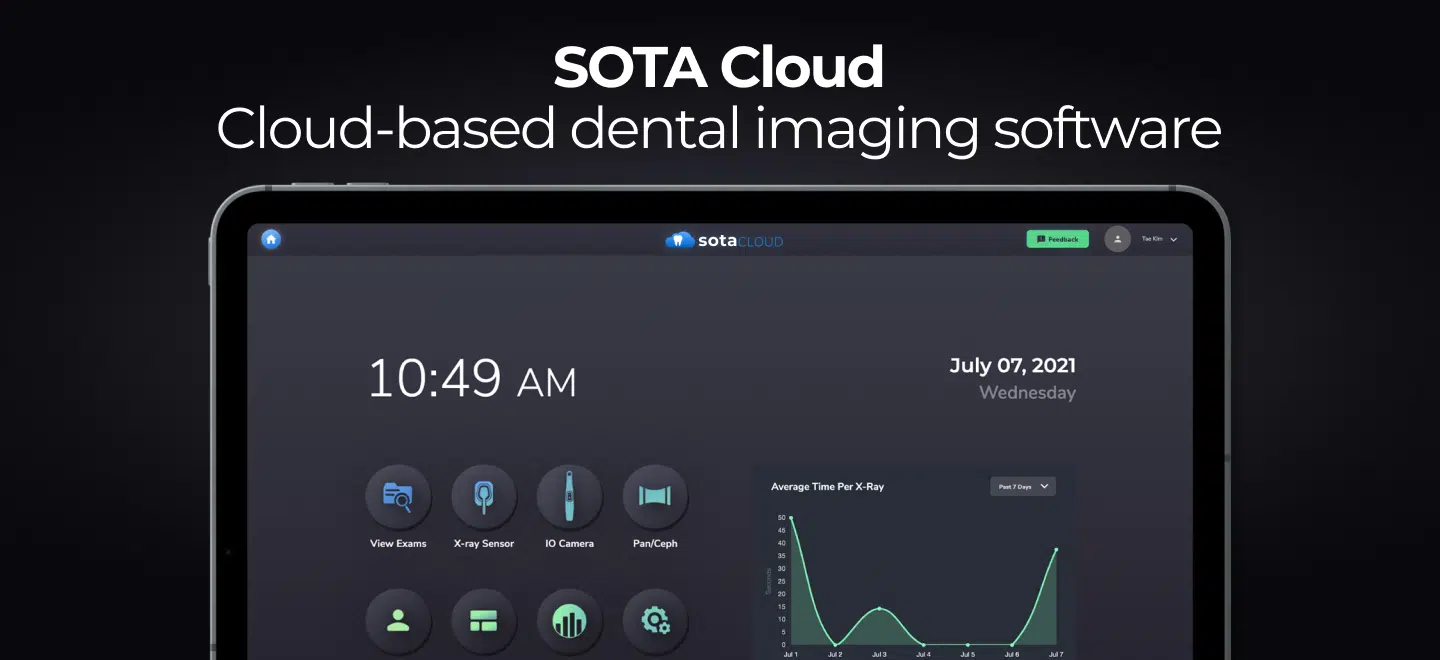 SOTA Cloud makes dental imaging easy, insightful, and accessible everywhere. Our cloud-based dental imaging software gives you the freedom to capture, view and edit images in your browser, protects your data, and grows your practice with powerful dashboards.
View Images Anywhere.
Any Device.
Whether you are a solo practice looking to improve security and reduce your IT burden, or a DSO working to centralize the insurance claims process, you can access SOTA Cloud from anywhere with an internet connection.
From editing images to viewing reports, SOTA Cloud is snappy.
Increase productivity with easy-to-read dashboards and insights including how long x-ray exams take and how well you are using intraoral cameras as a case acceptance tool.
The Little Things Are Big
Finished a bitewing exam and need a couple of intraoral camera photos? No need to create a new exam or template. Easily add images on the fly.
Automated Patient Follow-Up
Securely share before and after images with patients using easy-to-use communication tools. Send email and text reminders with annotated images to increase case acceptance and improve recall statistics.
"If you want to be at the cutting edge of dentistry, you need to get SOTA Cloud."
"The user interface is simple,
self-explanatory, and easy to use."
"I like that I can access the images from anywhere, on my phone and iPad."
Superior software.
Any way you slice it.
Built on Modern Technology
SOTA Cloud can handle the demands of any size practice from solo to DSOs. Computing power and storage is limitless and scaling is instant.
Bulletproof Security and Backups
Data is hosted in a HIPAA-compliant, max-security, Microsoft data center. Your data is stored in the US, always backed up, encrypted, and more.
Offline module lets you acquire and view new images if your internet goes down. No need for a server. All offline images are saved on the local workstation.
Join the Movement. We Make Switching to Our Software Easy.
Expert Conversion Technicians
From converting databases to integrating all your existing software and devices, we make moving to SOTA Cloud seamless. Our team of experts have a deep understanding of the conversion process and assure your data is transitioned smoothly.
Implementation That Empowers You
Our team of remote implementation specialists are here to help you maximize the full potential of SOTA Cloud. We don't just help you get up and running, we help you realize the full benefits of the features and functionality of SOTA Cloud.
Be on the cutting
edge of dentistry.